Begawan Foundation – Bali Starling Conservation Project
Conservation, Marketing & Communications Manager
Fly free little bird….
In 2007, I decided to take up a voluntary position through VIDA, an initiative from the Australian Foreign Aid department (AUSAid), to work on the Bali Starling species conservation project in Ubud Bali and it's
here where my love affair for birds (and Bali!) began.
The Bali Starling or Bali Mynah, is endemic to Bali and critically endangered. It's a highly prized bird for wildlife trade for its beauty and vocal capability as a songbird. This striking white bird with a distinctive blue mask was virtually extinct in the wild due to habitat loss and poaching with only 6 (yes you read right!), birds recorded in West Bali National Park.
The Bali Starling conservation project was developed and funded by the Begawan Foundation with the sole purpose of saving the species from extinction through extensive breeding and conservation efforts in Nusa Penida, an offshore island 16 kilometres from Bali, to release them back into the wild. The project has been very successful due to its efforts in collaborating and empowering 35 local villages and implementing traditional customary laws to make it illegal to hunt, kill, trade or smuggle the birds.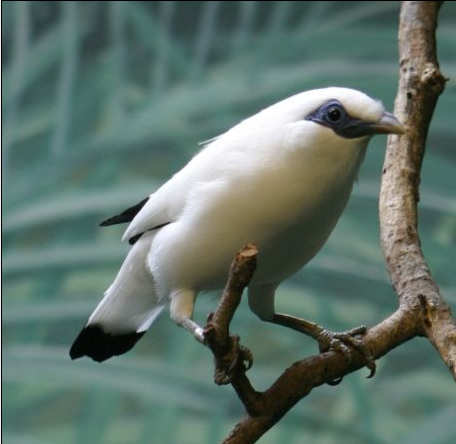 All images copyright Begawan Foundation
return to projects page